…no, I have never worn blue velvet. I've worn plenty of black velvet (my teenage goth days) and burgundy velvet (also teenage goth days), and, funnily enough, brown velvet (when I want to look like a lounge?).
The '90s revival, along with babydoll dresses, loud floral prints and plaids has ushered in the return of velvet. It's a little more sophisticated than its original outing and feels more lush/luxe.
This time around, I'd probably still wear it, but only in blazers or in the form of accessories. For those who would like to wear it in dresses, Lane Bryant have a sleeveless dress on sale: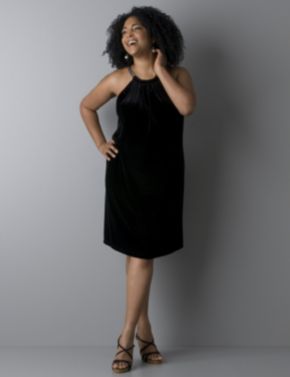 (the dress also has a matching shrug for those that are into shrugs).
Nordstrom have a cute pair of very comfy looking flats from Born with a velvet bow:

This coat, vintage from the Etsy store, Marlene X is amazing. I'm not entirely sure what size it is though?

My favourite thing out of all of the velvet I've searched for, and the one thing that might get me wearing a velvet dress? This:


from Y Y Studio. These guys make the most amazing custom garments and are reasonably priced considering the quality. I think I need that dress now.